Accommodations, Attractions, Camping, Golf, Real Estate
Accommodations
Pirates Cove
Andrews Lakeside Resort
Lighthouse Lodge on Lake Shafer
Blue Door Cottages
Shady Cove Cabins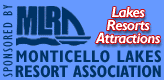 Camping
Golf
Real Estate
---
Monticello Chamber of Commerce
116 North Main Street
Monticello, IN 47960
(219)583-7220
Population (1990): 13599
Location: 40.762556 N, 86.754999 W
1990 Census
Short Drives
Clegg Botanical Gardens (765-792-0325) Located at 1845 North on County Road 400 East, Tippecanoe County. Wander through the trails of this wooded area with numerous cultivated and natural plants. Open to the public (and free) from 10 a.m. to sunset every day. The spring wildflowers are the best in the area.
Purdue Wildlife Area Entrance via driveway at 8003 State Road 26 about 9 miles northwest of Lafayette. Owned by Purdue University. Visitors must sign in. Marshes, fields, and small woods. Good in spring and fall for aquatic wildlife.
Wolf Educational and Research Wildlife Park (765-567-2265) Located 1.5 miles north of Battle Ground off Harrison Road, which runs along the railroad tracks. Follow the signs from downtown Battle Ground. Open May through November, every day, 1 to 5 p.m. Examine a pack of wolves and a herd of bison up close and discuss their behavior with researchers. Each Sunday at 2 p.m., wolf-bison demonstrations are held where visitors can observe predator-prey interaction. Wolf howls are held on Fridays and Saturdays at 7:30 p.m., year round, unless it is raining or snowing. Admission is $4.
Wabash Heritage Trail This is a very nice trail along the river that starts at the Tippecanoe Battlefield and comes all the way to Lafayette.